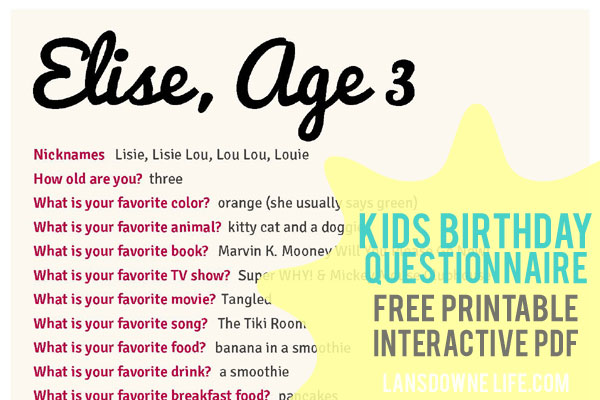 I keep track of the funny things my daughter says, but like many moms, I don't note other details as often as I probably should.
When she turned three in April, I knew it was the perfect time to begin a new tradition that would allow me to shed some of that mom guilt about not journaling every detail of her life. I saw this "birthday questionnaire" idea years ago before she was even born, tucked it away, and since then, I've seen it on other blogs executed in a variety of ways.
Some do it on birthdays, some make a record on the first or last day of school, sometimes the answers are coupled with a photo. I don't scrapbook, so a one-page interview I could slip into her (incomplete!) baby book seemed like the easiest solution for me.
I had her answer the questions in the days surrounding her birthday, but I'm just now getting around to completing the design and printing it out.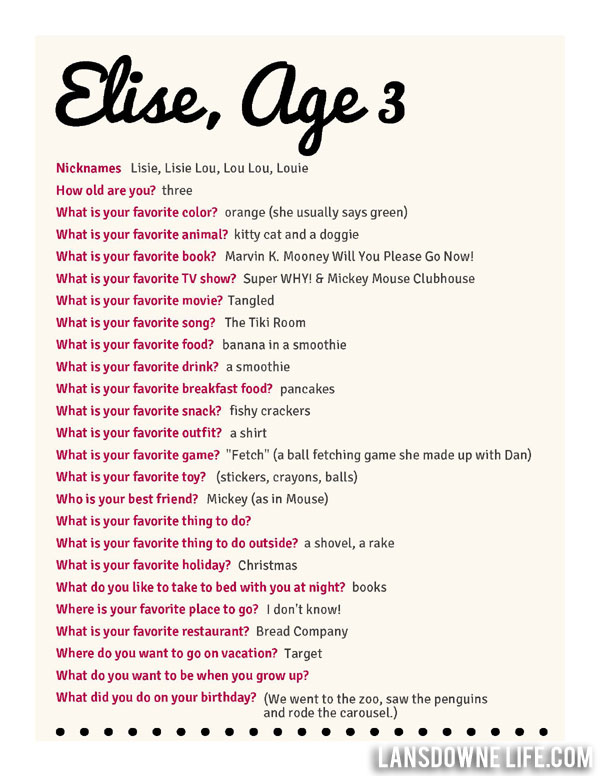 She might be a bit confused about what the word "vacation" means…
I designed my own set of questions based on a few different sets I found online. At age three, she didn't answer some of them. If I had extra info, I made notes in parenthesis, but for a couple, I just left them blank so we could compare to future interviews.
But I didn't just make this form for myself… I'm sharing it with you as a free printable!
Update 01/14/2015: Sorry, Mac users. Due to the the way that Adobe Acrobat displays fonts in PDF form fields on Macs, this file won't work properly on your computer. Wish I could fix it, but it's an issue with Acrobat itself. Boo.
Download pink/yellow birthday interview questionnaire (PDF)
Download blue/green birthday interview questionnaire (PDF)
Click on the link above, then save the file to your computer. (You won't be able to customize the form within your web browser.)
Enter your child's name, type in their responses to the questions and print! Or you can enter your child's name, print it, and write your answers in by hand.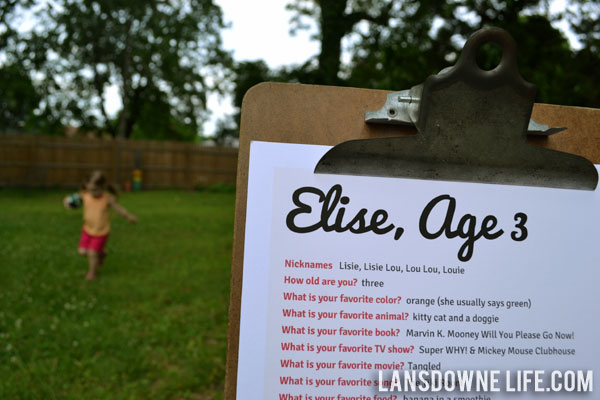 Alternatively, if you're a Photoshop superstar, you can save the PDF as a jpg and type on top of it. (But if you're a Photoshop superstar, I'm not sure what you need me for!)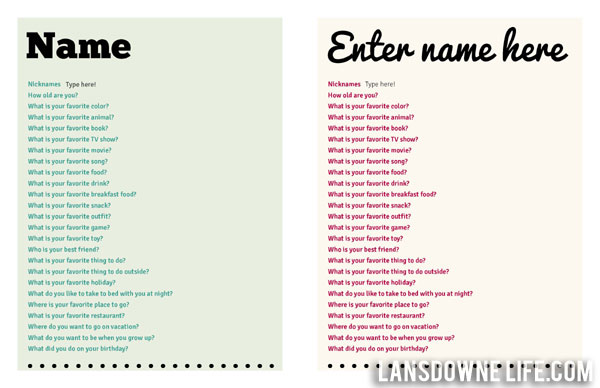 I made a "girl" form and a "boy" form, but they are still both somewhat neutral enough that you could use either one for either gender.
I tried to make the top of the form flexible enough to accommodate long names, but you can complete it in a number of ways. See my examples below!




Please let me know if the forms aren't performing as they should! I tested them pretty rigorously, but I definitely want to know of issues you may experience.