I got a dozen of these clear glass ball ornaments for $2, so it's a really cheap craft too.
Then I remembered I had a bunch of Elise's birth announcements left. So I thought I would make her one.
I don't think the results were as successful as using colored cardstock. It was also a little strange to cut up photos of your baby and see disembodied fingers and eyeballs floating inside a glass ball.
This didn't use up as much paper as I thought it would. I only used two wedding programs. And Elise's ornament only used four 4×6 photo cards, so I still have a pile of paper. Guess it's going in the recycle bin!
Our bathroom is still under renovation, but we're making progress. The drywall is up, taped, patched and primed, waiting for paint and tile.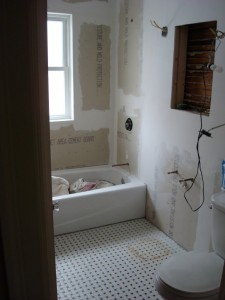 The toilet is in, but just temporarily. We'll have to take it out again when we're putting in the floor tile. There's a lot left to do, but I feel like it's doable. We're getting to a point where I can be of assistance with the painting and tiling, so that might speed things up.
My dad stripped about 10 layers of paint off the trim, including previous owners' poor color choices — peach, sea green and black. I kind of like the way it looks unpainted, but that wouldn't really go with the style of the rest of the bathroom.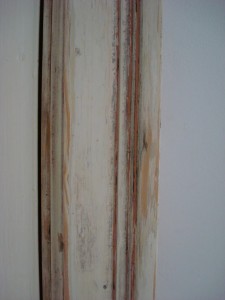 Our family room is on top of our garage and even with the extra insulation and new garage door we installed last year, the floor is always really cold. Not so good for a baby crawling and rolling around.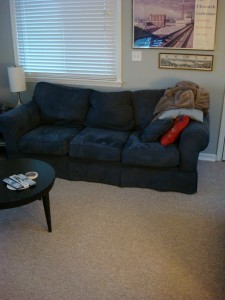 Before
Hello area rug! We also removed the coffee table because it was a hinderance and Elise was always sneaking under there trying to injure herself. Now she has plenty of room to roll.
After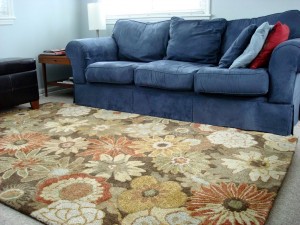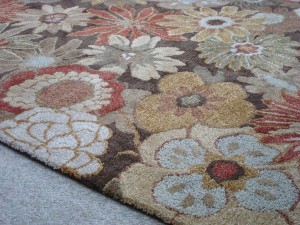 Get a good look at the rug because I'm sure this is one of the only times it will be free of baby toys.
Now, I'm noticing just how blue our couch is. Oh well. Given its current condition, it's in line for replacement.