I spent time this weekend washing, organizing, storing and labeling the vintage china I inherited from my great grandma. Doesn't get any more Martha Stewart than that!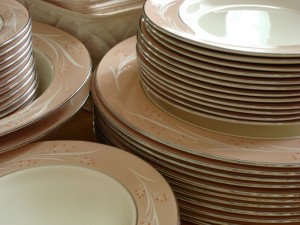 Adam gave Elise these vinyl stickers for Christmas, but our plaster walls are textured and I was pretty certain they wouldn't stick to the walls in her room…
So I put them on the closet doors instead! They are removable and won't harm the finish (so says the packaging). All of the doors in our house are pretty banged up and could stand to be refinished, so I won't be too upset if that's not true.
As if her room needed more adornment!
After seeing me put together these mini clipboards, my mom picked up a little round clipboard kit for me.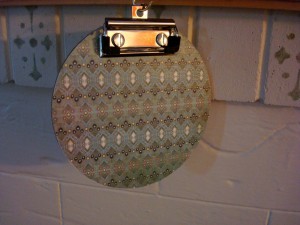 Now I just have to figure out where to put it.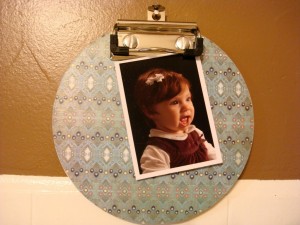 I love the brickwork and the shape of the arch. I even love the detail painting that was already here when we moved in.
But my fireplace does not heart babies. It's a functional fireplace, and although we've never used it, it's covered in layers of soot. I'm also pretty sure the chimney is crumbling on the inside because there's always a little pile of dust and gravel in the bottom. (Yeah, no good. We should probably get that looked at.)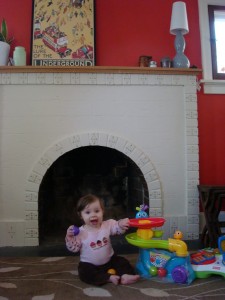 Before
For months, I've been trying to come up with a solution for babyproofing the fireplace without resorting to an ugly and expensive hearth gate. And then I ran across something we had upstairs that might do the job.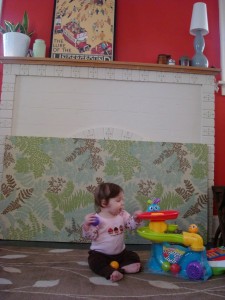 After
This is a piece of fabric stretched on a frame. I built the frame in college and it originally had a canvas stretched on it for a painting class I was taking. A few years ago, I removed the painting and stretched the fabric for a cheap piece of "artwork" in our old apartment.
I'm not sure how long this will do the job, but it didn't cost anything. It's lightweight and won't hurt her if she pulls it on herself. And it's a heck of a lot prettier than a plastic gate.
As #45 of my 101 list, I tasked myself to finish all previously unfinished crafts. This one was so close to being finished, I have to wonder why I didn't complete it ages ago.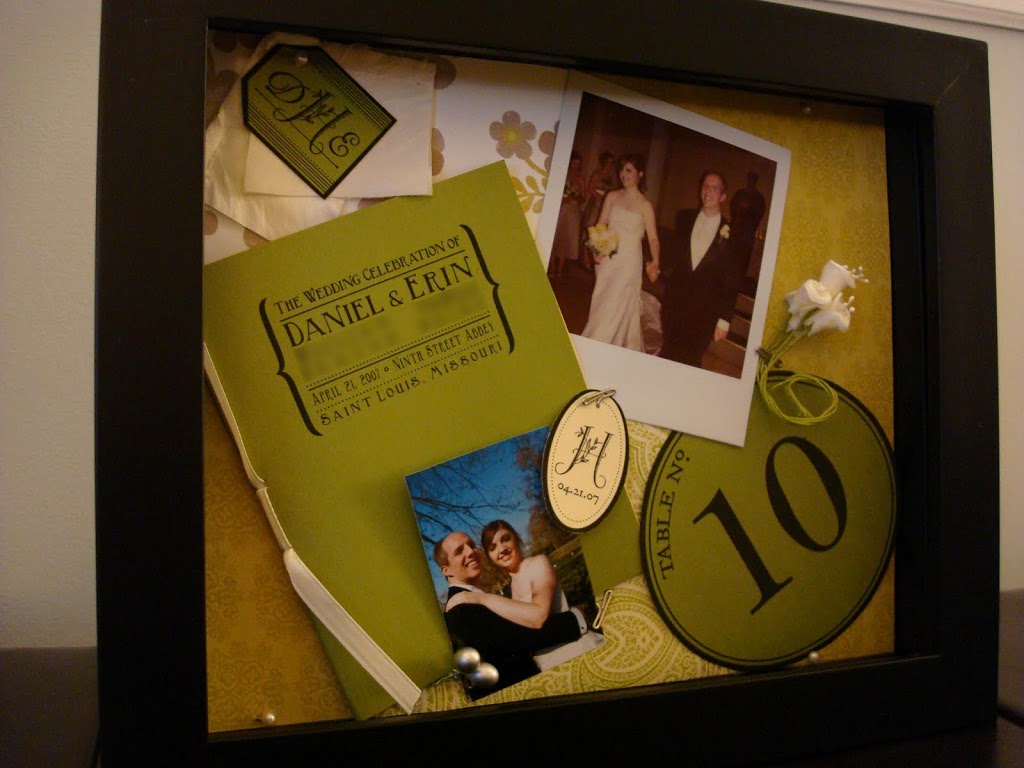 I think the whole reason I wanted to make this in the first place was to show off the awesome Polaroid picture my sister-in-law Jill took just moments after we were married. Love love love this picture! One of my favorites. I'm still amazed she was able to capture such a great photo in one single shot as we were walking out!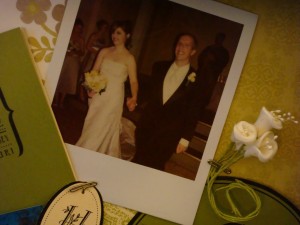 And that's the last of the wedding crafts for a while. Promise!