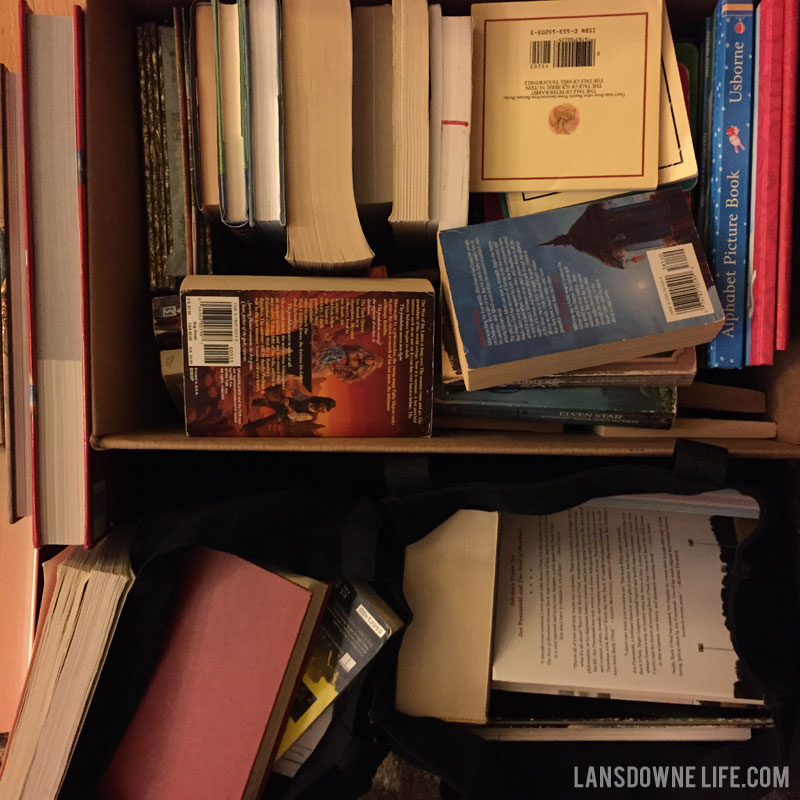 Challenge: I am tasking myself with going through my entire house and getting rid of everything that we don't need anymore. I'm also taking this opportunity to repair things that are broken, eliminate annoyances, develop new systems, and just streamline as much as possible. See more posts in the series >>
Hey there! It's been a while. Summer schedule has taken hold, and I've made a conscious decision to post less frequently in favor of regaining my sanity. To be honest, I've thought about retiring this blog altogether, but something inside me isn't letting that happen. Anyway, I'm still here, though I'm spending most of my free time/creative energy working on my shop.
So… decluttering. Where was I again? The decluttering process is not easy to document. Sometimes it's so slow and gradual, filling boxes bit by bit. Other times it's let's just pitch all of the things RIGHT NOW and get them out of the house immediately. No time for photos! The stuff has to go!
Since my last update, we've gone through all of our books (mostly Dan's books) and condensed everything down to a single bookcase. (The kids have their own books in their room.) It took a lot of mental effort to get the courage to do it, but once we were there, it wasn't difficult. We got rid of something like 100 books. We are readers, but heavy library users, so most things were old acquisitions.
I got rid of some of the kids books too. Things that no one cared about. Books that were falling apart beyond repair. Garbage books with no real artistic or intellectual value. The kids have so so many great books. There's no need to keep filler junk.
We also went through the DVDs, which are also mainly Dan's territory, and got rid of a handful. And we checked to verify that each case actually held the disc it was supposed to. Luckily, they were not all that mixed up. (I suspect our CDs will be a different situation.)
Then it was onto the papers. You guys, I got rid of so many papers. I recycled manuals for electronics, old college notebooks, expired coupons, receipts, old birthday cards, two or three years worth of Christmas cards, old magazines… I didn't even know we still had a lot of this stuff in the house, and there's probably more hiding.
The getting rid of things by category system works when you have categories to work with. Clothes, papers, books, etc. But it doesn't work for the most challenging spaces: closets and the basement, stuffed with stuff that's all mixed up. Boxes full of stuff that I don't even know what's inside.
Anyway, I reached some sort of tipping point and an avalanche of stuff flew out the door. I scheduled a charity donation pickup and found out about an Earth Day recycling event (yeah, this update is way overdue), and started collecting anything I could grab.
We got rid of:
A giant stack of styrofoam packing (It had been hanging out because was too big/too much to fit in our trash can.)
A bunch of plastic plant pots/containers
An assortment of dead electronics and wires
Stuff from thrift stores that I had planned to rehab (but hadn't been touched in two years)
And boxes and boxes of random things that were so unnecessary, I don't even remember what they were. You can't miss something if you didn't remember you had it in the first place.
If you live in a big metropolitan area, and charity pickups are available, you really should take advantage. It gives you a deadline and all you have to do is get the stuff to your porch. And then it's gone! You don't have a chance to procrastinate. You don't have a chance to take things back. I've done two pickups since April, and I'm about to schedule a third. It's my new secret weapon against the clutter.
And then it was on to the baby stuff…
After all that was gone, I finally made my way into the closet with all of the baby gear in it and was sort of amazed. More than half of that crap could just go. Our Pack 'n Play days are over, so I donated a bunch of still usable baby things to a local charity that works with babies and moms in need.
I feel like I'm exiting the "acquisition" phase of my life. We have a house. It's mostly furnished. (Of course, there's always fine tuning.) We're out of that tiny newborn phase and done with the baby gear. While we are always growing and changing, wearing things out and using things up, the large waves of accumulation are over. And now we're in a phase where I'm valuing quality over quantity, trends, and junk. No more saving for what ifs. There are too many what ifs to save for.
Next up: not sure, though that basement certainly could use some help.