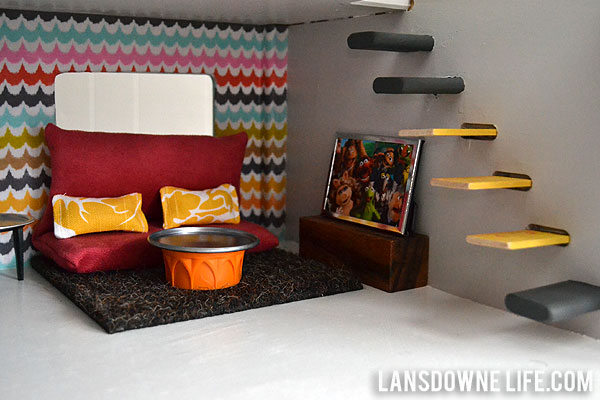 Like I mentioned in my introductory post, I furnished the entire dollhouse with things I found around my own house. Junk, recyclables, scraps and other random pieces. Here are the details.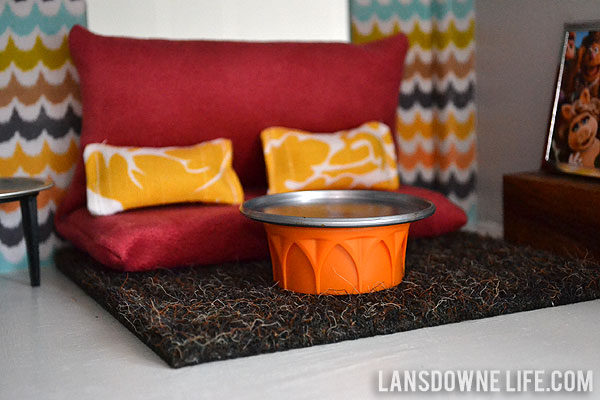 The couch and pillows were made from fabric and batting scraps. I sewed them but also used a bit of hot glue to get the back of the couch to stay upright. The coffee table is a plastic cap from a bottle of orange juice and a metal frozen juice can lid. The end table is one of those takeout pizza protector things painted and with another metal lid on top. The rug is a FLOR carpet sample.
The TV is a small silver photo frame with the glass removed. It's sort of hard to see in the photos above, but I inserted a printed picture of The Muppets (one of Elise's favorite movies). The TV unit is a wooden block.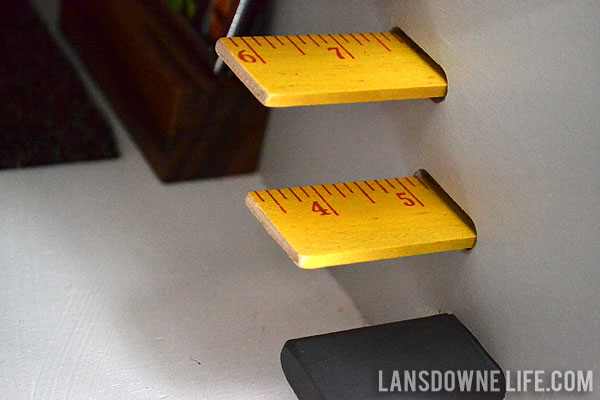 When I found the house at the thrift store, there were a few stairs missing. I repaired them by gluing some small pieces of a yardstick in place. Surprisingly, they seem pretty sturdy.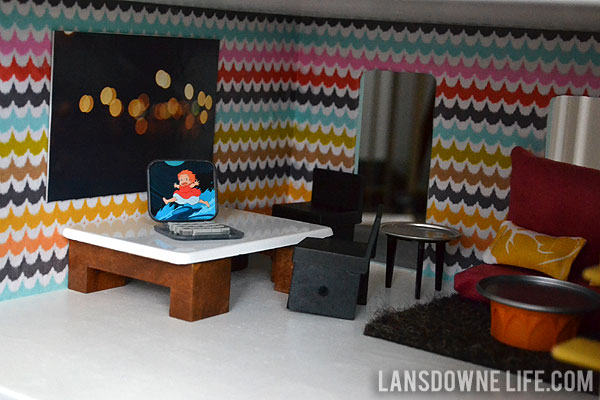 The dining room table is made from a couple of wooden blocks (from an incomplete brainteaser-type puzzle) and a white countertop sample. The artwork is a 4×6 inch photo print mounted onto some cardboard with Mod Podge, and then I hot glued onto the wall.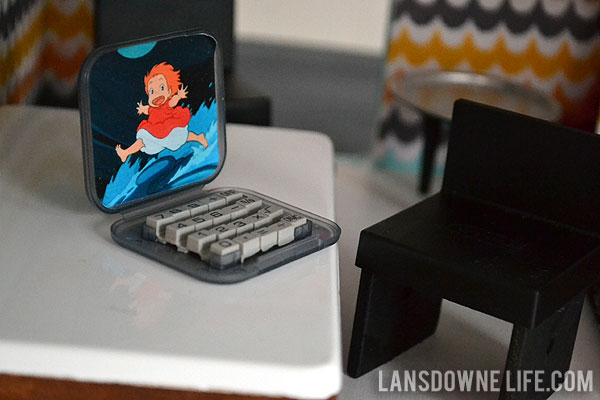 I should have known that the laptop would be the first thing Elise would go for when she saw the house for the first time. I started with a tiny hinged plastic case for a camera memory card and then took some buttons from a broken calculator and glued those in. For the screen, I printed a snapshot from Miyazaki's Ponyo (another one of our favorite films) and used Mod Podge to glue it in place.
The black chairs were made from L-shaped plastic bracket covers and a couple of pieces of scrap wood for the legs.
See all the dollhouse posts
Before photos >>
Part 1: Part 1: Whole house after photos >>
Part 2: Living Room / Dining Room >>
Part 3: Kitchen >>
Part 4: Landing / Sitting Room >>
Part 5: Bedroom >>
Part 6: Bathroom >>