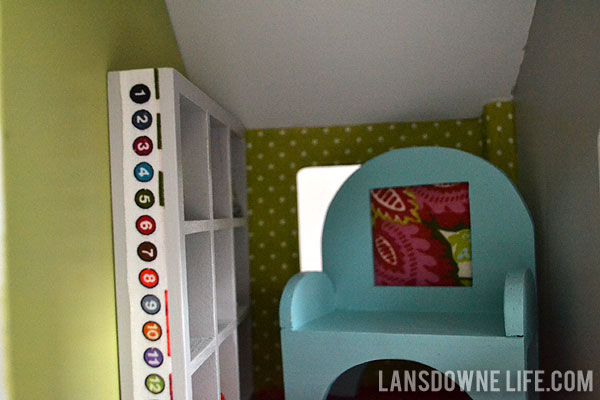 Like I mentioned in my introductory post, I furnished the entire dollhouse with things I found around my own house. Junk, recyclables, scraps and other random pieces. Here are the details.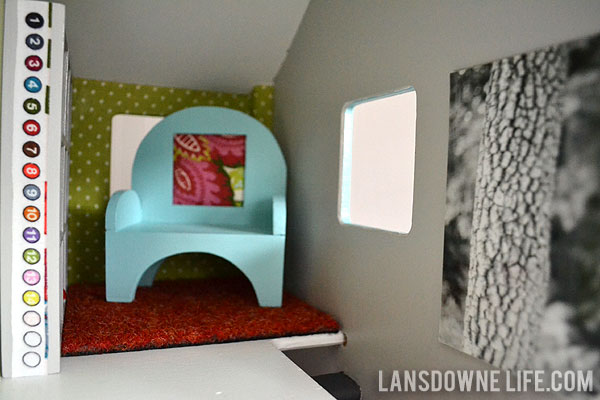 Initially, I wasn't quite sure what to do with this space at the top of the stairs. It didn't seem right to turn it into the bathroom (though a three-sided house is short on privacy anyway). And I wasn't sure I needed two bedrooms, so it became a sort of sitting room.
The wooden armchair was actually a picture frame that I repainted. I inserted a scrap of fabric and batting where the photo would be to make it "upholstered" seating. The rug is another FLOR carpet sample that I trimmed to size. The "oversize" tree artwork is a photo print that I backed with some thin cardboard and hot glued to the wall.
I pulled out the shelving piece to take the above photo since it was impossible to see from any camera angle. It was originally an unfinished wood piece from the dollar store. I painted it and filled it with found treasures from my coffers. All of the pieces are glued down so they won't get moved or lost. I guess there is a reason I save all this stuff!

Before photos >>
Part 1: Whole house after photos >>
Part 2: Living Room / Dining Room >>
Part 3: Kitchen >>
Part 4: Landing / Sitting Room >>
Part 5: Bedroom >>
Part 6: Bathroom >>