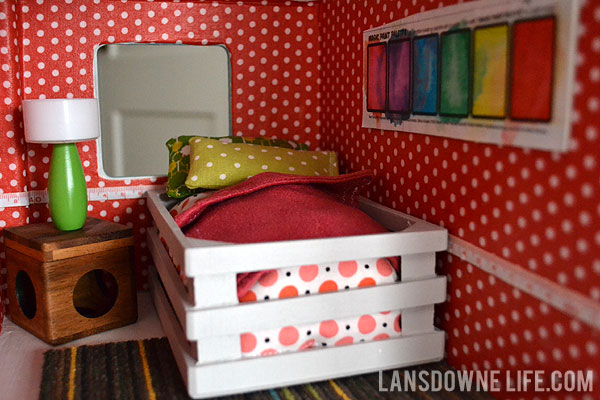 Like I mentioned in my introductory post, I furnished the entire dollhouse with things I found around my own house. Junk, recyclables, scraps and other random pieces. Here are the details.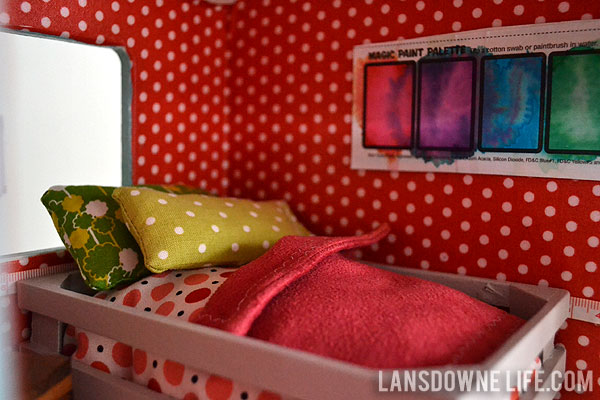 The bedroom came together the easiest out of all the rooms. The bed started with a wooden crate (from a set of Melissa & Doug play food) that I painted, then filled with bedding made from fabric and batting scraps. I sewed a couple of mini pillows too.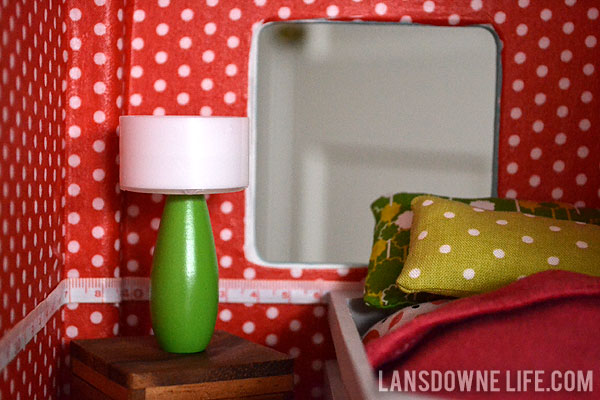 The lamp base was previously a ceiling fan pull. The shade is a spool from a roll of scotch tape. The end table is a block from an (incomplete) wooden brainteaser puzzle. The chair rail is a length of a mini measuring tape that wouldn't wind back up. And, as in the rest of the house, the rug is a FLOR carpet sample.
The sea lion art pieces are playing cards mounted on thin cardboard and hot glued to the wall. The other rainbow piece is a used paper paint pallette from a kids paint book that I saved because I loved the way the colors bled and bloomed.

Before photos >>
Part 1: Whole house after photos >>
Part 2: Living Room / Dining Room >>
Part 3: Kitchen >>
Part 4: Landing / Sitting Room >>
Part 5: Bedroom >>
Part 6: Bathroom >>