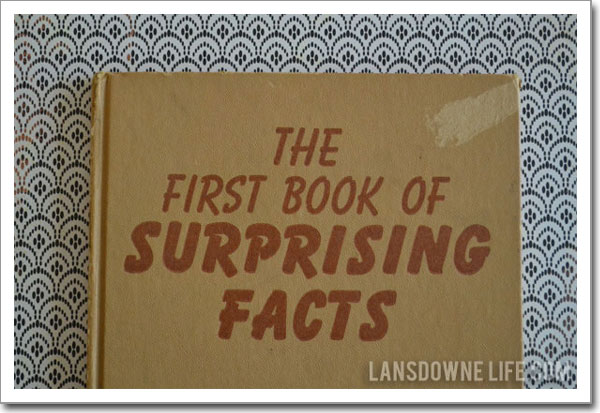 Wanna hear something crazy? This is my 500th post! I actually didn't even notice it was coming up until I reached about 490.
I wanted to do something a little different to commemorate the big 5-0-0. I try to be personable here, but I'll be the first to admit I'm not the best at opening up and sharing my life's story. I thought this would be a good opportunity to let you know a bit more about who I am.
Pssst: If you're just here for the projects, you won't hurt my feelings if you skip this post. That is, as long as you come back tomorrow!
25 facts about me
because 500 would just be silly
I come from a DIY family. My parents have renovated two houses and built two more. My dad can pretty much build or fix anything. I get my "I can do that" attitude from them.
I have one brother. He's a music professor and a professional trumpet player! No matter where I am, whenever I hear a trumpet, it's like I'm hearing his voice.
I don't have any sisters or any girl first cousins on either side of my family. This didn't bother me growing up, but it kind of does now.
I grew up in a small town in Illinois (a village, actually) with a population of around 2700 (at the time — it has since grown a bit). There were only 15 kids in my graduating eighth grade class.

My husband has no recollection of the first time we met (which was years before we started dating). He will be teased about this forever.
I love animals. I grew up with dogs, but now I have an 11-year-old cat. Someday, I hope to have a dog again, but we don't have the necessary time to devote right now.
I read more blogs than books, but the books I do read are almost exclusively non-fiction.
I went into university as an accounting major, but didn't take a single accounting class before I changed my major to psychology. Four psychology classes and I changed my major again to communication/journalism. I completed my painting minor as planned all along, and thanks to a bunch of college credits I earned in high school, I still graduated in 3.5 years. Still, part of me wishes I had gone to art school.
During college, I was an editor of a student-run independent bi-weekly newspaper for two years. This was where I met my now brother- and sister-in law (and through them, my husband). So if I actually had gone to another school to pursue a different degree, my life would be much different for sure.
My last job before child was at a corporate law firm where I assisted attorneys with their presentations for trial. Sometimes it was high-stress and other times it was super mundane; there really was no in-between. There were large parts of the job I definitely did not like. Looking back, I can't believe I stuck with it for 5.5 years.
My husband and I watch a lot of movies. Or maybe I should say, films. (My husband writes a film blog and has written DVD reviews for 10+ years.) So far in 2012, I've seen something like 55 films. My total for 2011 was right around 100 (a mere fraction of what my husband manages to watch). My favorite directors are Michel Gondry, Wes Anderson and Jean-Pierre Jeunet. I also have a soft spot for documentaries.
I have seen more than 115 concerts in 10 different states. My show going has certainly slowed down in the past few years post-Elise, but we still manage to get out to a few a year. My favorite concert experiences are Radiohead at a small club gig in 1997, a completely transcendant Tom Waits show in 2008, every time I've seen Sigur Rós and all the times I was up front for The Flaming Lips. All mind blowing! We saw The Polyphonic Spree last month, and they were amazing as always.
I worked at a record store for two summers and over breaks during my college years. I thought it was pretty cool at the time because I picked up super cheap used CDs, but in retrospect, it was kind of a junky record store.
Though young Erin swore that she would never lose touch with music when she had a kid, the inevitable happened and my priorities shifted (including putting my creative endeavors ahead of reading Pitchfork). Still, my husband does a stand-up job of keeping us in the loop musically. (Well, as much as thirty-something parents can be.)
I knew this house was our house the first time we saw it. (I guess it didn't hurt that we had seen a lot of bad houses during our search, so when we actually saw one that hadn't been seriously jacked up, it made an impact.)
I am such a homebody. Even more so since having my daughter. I could stay home for days and days, and it wouldn't bother me one bit.
But I have traveled some (to maybe about 18 states and to London, Paris and Mexico). Not a world traveler by any means. I get motion sickness pretty bad, so the actual "travel" part of traveling is often kind of miserable for me. Puking on a plane = not so fun.
I have a hard time making small talk. I struggle with finding the right words. If I've ever left you feeling weird after an awkward conversation, I apologize!
I am a pack rat. I try to keep it under control, but there's no denying it. It's less about nostalgia for me and more about saving things that have potential to be turned into something else. Good thing we have a basement!
I collect fortune cookie fortunes. From this photo, you would think we eat Chinese all the time, but we don't. This is years and years worth of fortunes from anyone who would give them to me after the meal. Someday, I'm going to make something cool with them.
I love treasure hunting! Whether that means rummaging through the clearance racks or literally digging in the dirt in my backyard. I don't know where this attribute comes from, but my brother has it too.
Things I love: Diet Dr. Pepper, Donut Drive-In, The Daily Show, alliteration.
Things I don't care for: sports, air "fresheners," seafood, crowds, slow walkers.
I enjoy baking much more than cooking, but I can't say I have a passion for either.
If it weren't so completely unhealthy, I would eat ice cream for every meal for the rest of my life.