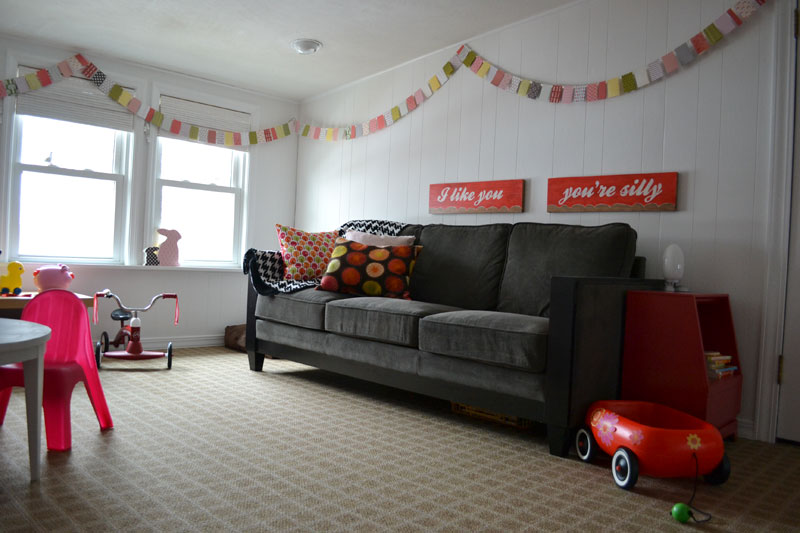 After many months of work, I am happy to announce our playroom is finally finished. Let's take a look at where we came from: the dated, dingy unused upstairs bedroom that nobody spent any time in.
It needed major brightening. When I was hunting around for the before pics for this post, I realize they were taken in AUGUST. Wow, this transformation has taken quite a long time. Such is life with a toddler (or ridiculous self-imposed gift-making challenges).
First things first, that blue shag carpet had to go. To replace it, I found three by three foot carpet tiles at a home discount store for a grand total of $233 and installed them myself.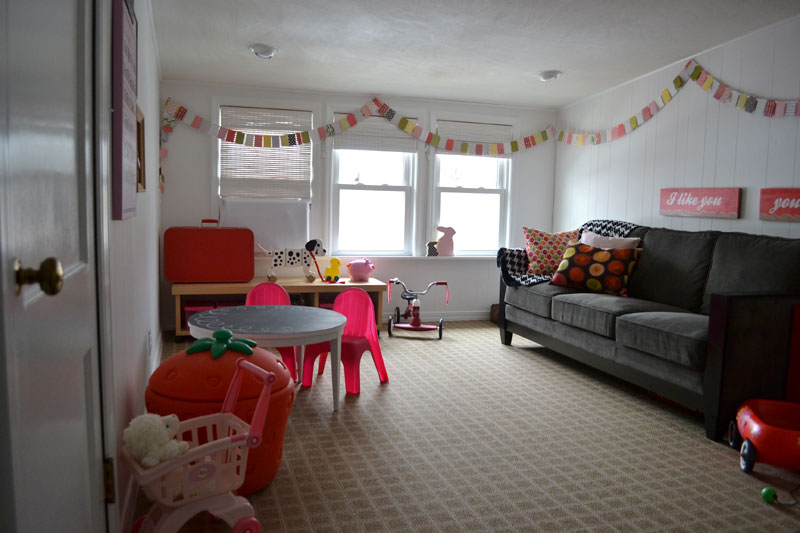 I wanted the new space to be colorful, but the walls and floor needed to remain neutral so the space could function as a kid or adult bedroom in the coming years if necessary (without repainting). That said, all of the color had to come in through artwork and toys.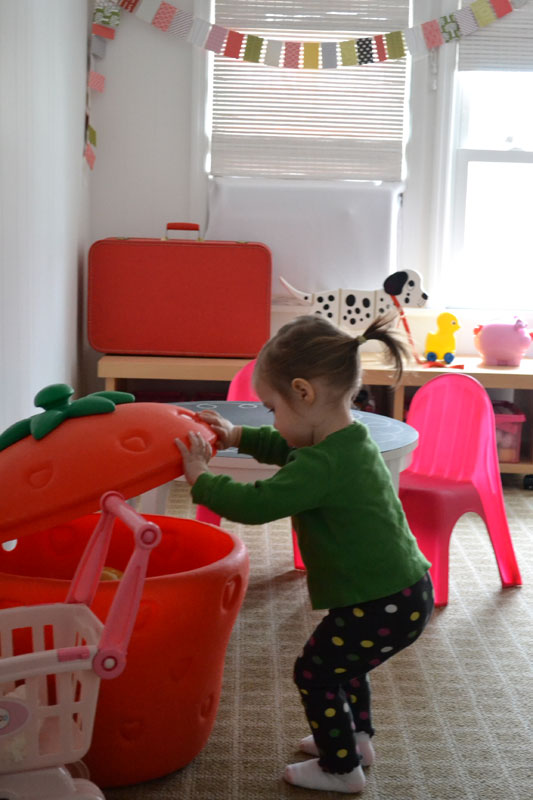 This second-floor room gets a fair amount of natural light, and I envisioned creating a bright white airy space. I painted the panelled walls Delicate White by Olympic in eggshell and used the same shade for the moulding and doors in semi-gloss.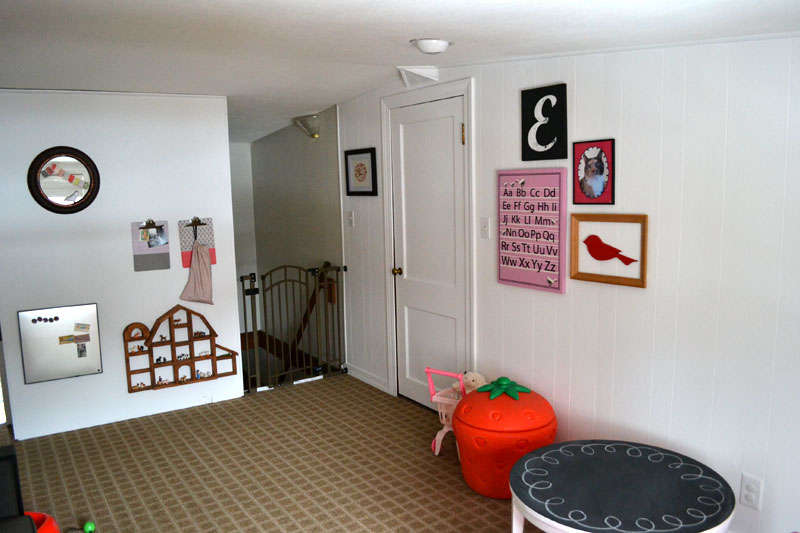 This room is equal parts new, repurposed and handmade. In the new column, we have the carpet, the couch and a handful of smaller items. I was able to repurpose many items we already owned, like the former TV stand that is now toy storage, the play table and the vintage strawberry toy box (mine when I was a kid!), and I made most of the artwork myself.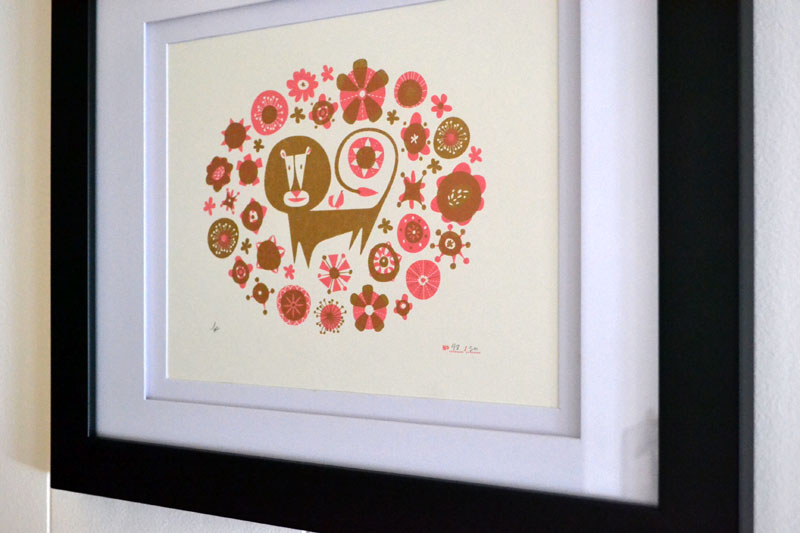 Based on my choice of the beige/golden carpet, I derived a bit of color inspiration from this print I bought for Elise shortly after she was born. Her bedroom doesn't have a lot of pink. When I was designing her nursery, I didn't want to fall into the pink PINK pink.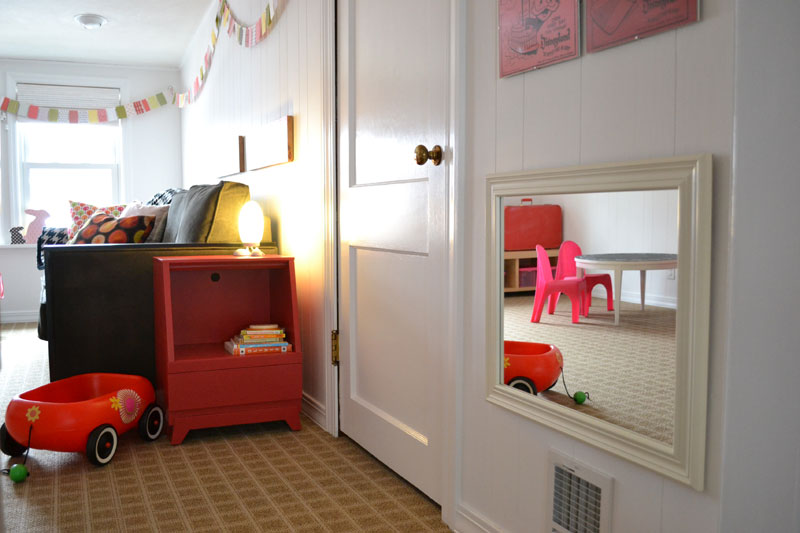 But as time progressed, I began to think that the exclusion of pink was probably just as unhealthy as the overload of pink. Thus the pinkish color scheme was hatched with the addition of red to temper it a little.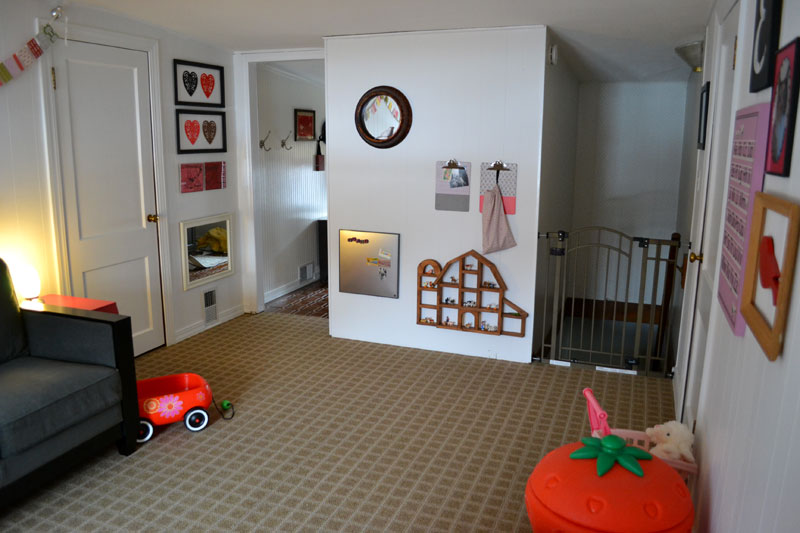 Beyond the carpet and the couch, this room didn't cost much at all. I wasn't really trying to meet any sort of budget, but as always I tried to keep purchases cheap and to a minimum. Excluding the carpet ($233) and the couch ($425), all the extras cost around $250 total. That includes new window shades, the top-of-the-stairs metal baby gate, all the artwork and paint. Not too bad.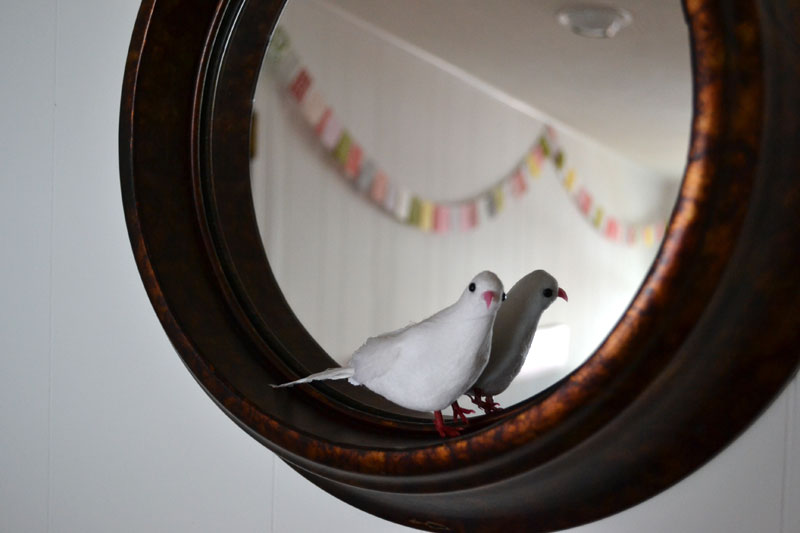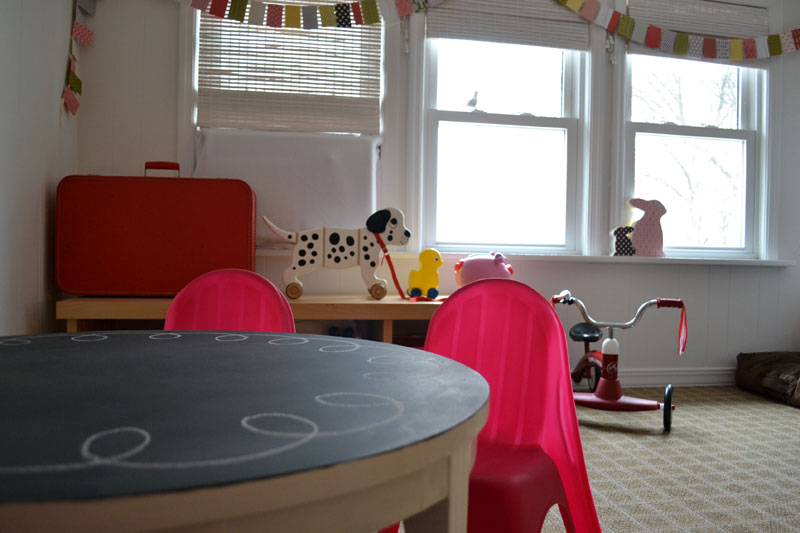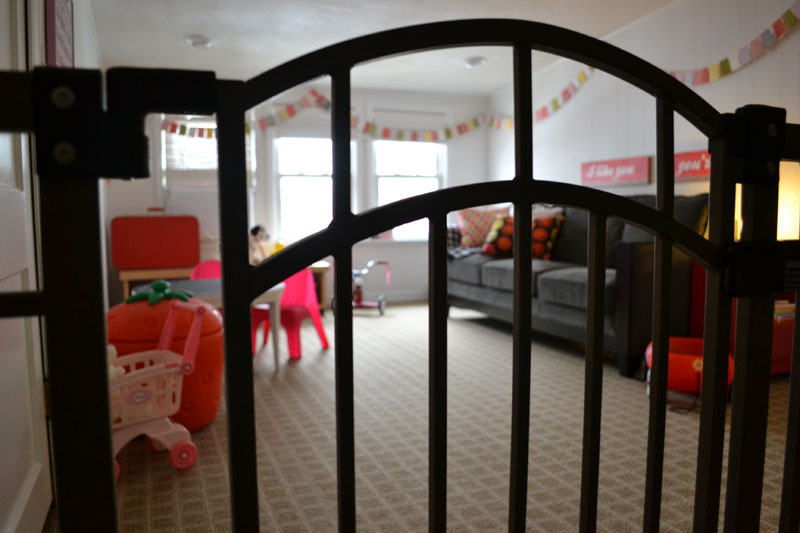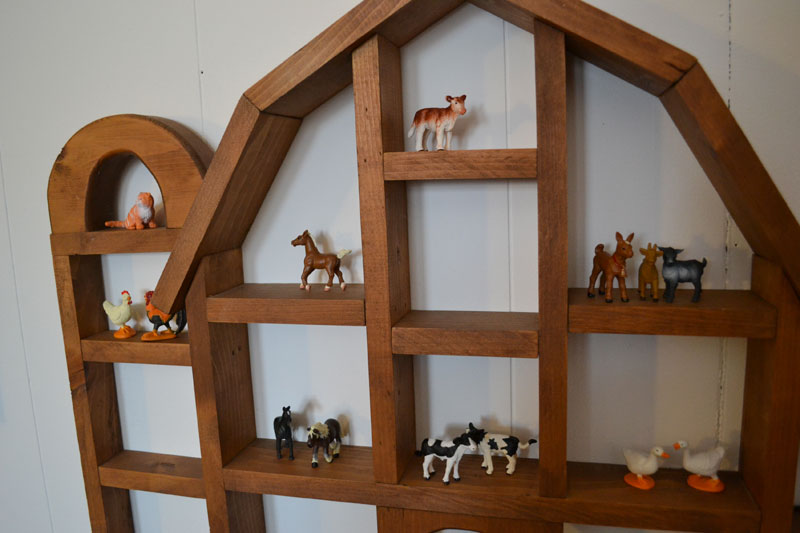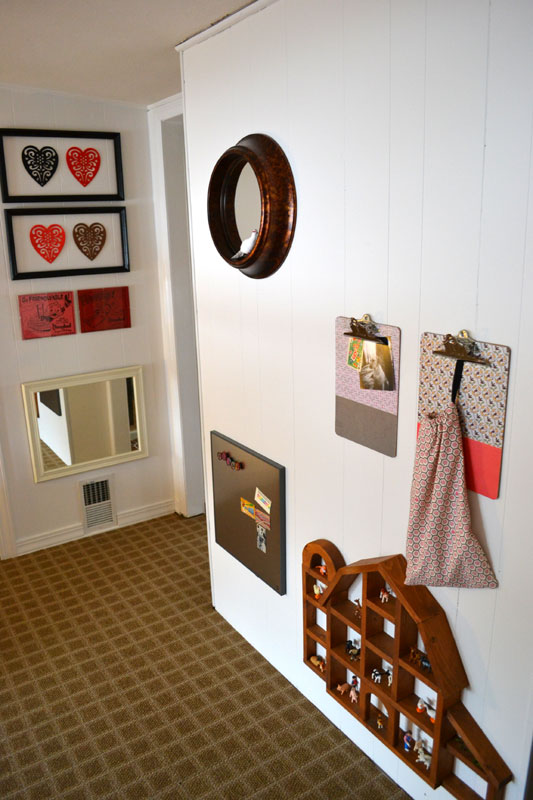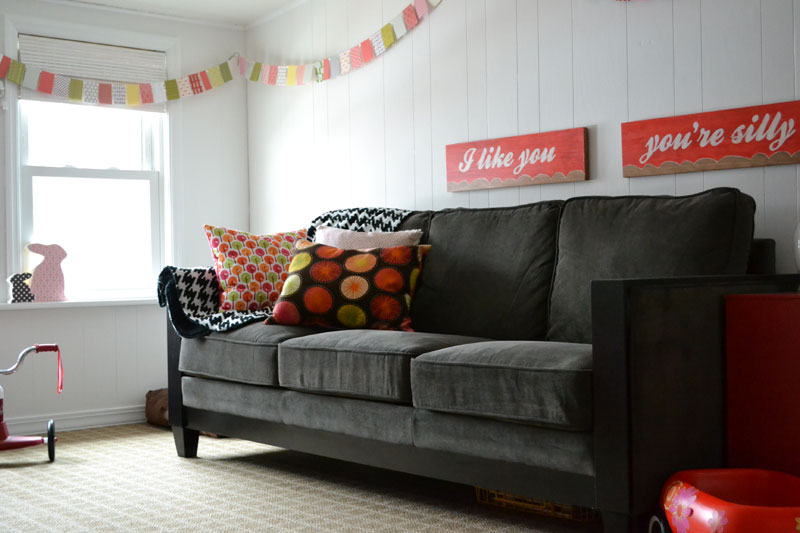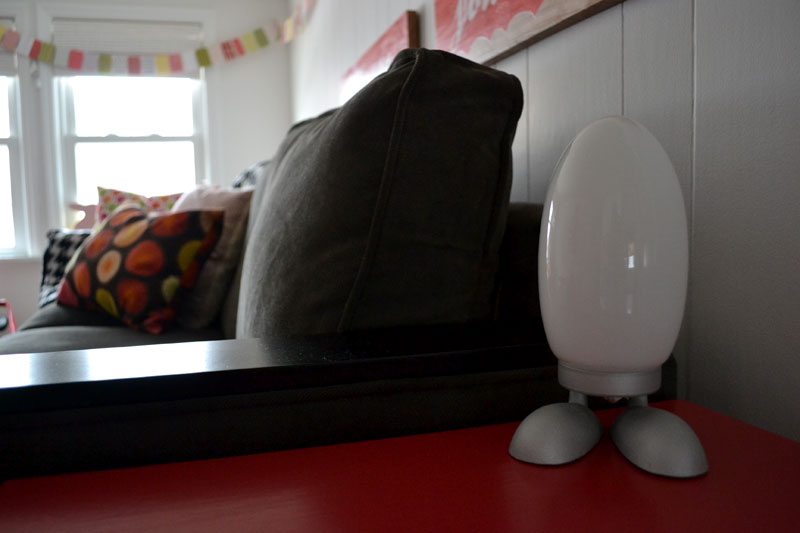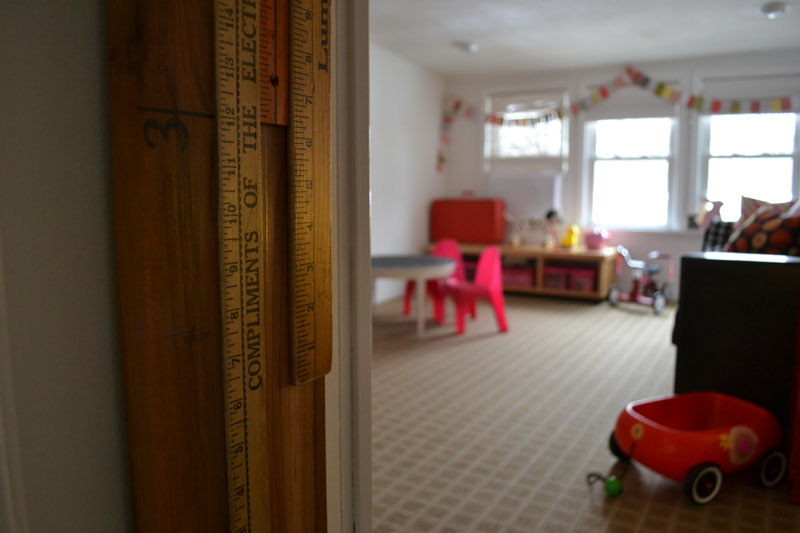 I am totally in love with this room. It's so happy! Kid rooms are so much fun to do.
You can read all about the progress of the playroom here. I'll have posts about some of the artwork and details in the next week or two (or three), but if there's something specific you want to know about, please let me know in the comments.
——————–
Projects shown in above photos:
Vintage yard stick growth chart
Weathered E wall art
Back-painted glass picture frame
Mod Podged bunnies
Colorful couch pillows
Playroom pillow do-over
$2 wagon makeover
The rest of the playroom projects posted since this original post (added 02/13/2011):
"I Like You. You're Silly." paintings
Ugly Craft Makeover: Birdie cutout
Festive paper scrap garland
Heart cutout wall art
Mod Podged clipboards for displaying artwork
Repainted end table
Chalkboard play table
Toy Storage