A busy holiday sales season is sort of a double-edged sword. It's what many of us makers and artists work toward and hope for all year (Making consistent sales! Finally!). Two thirds of my retail sales are done in just the last three months of the year. But add all that extra work to what can be the most hectic time of year, and it can be positively overwhelming if you're not prepared.
Now I know preparing so far in advance can make you feel a little silly, like the nerd studying for a test that isn't for another two months. But when the busy season hits? Trust me, you'll feel like the smartest kid in the class.
Do Future You a favor. Don't wait until you are bombarded with orders and have zero extra time! Here are 21 tips to prepare your business and schedule for success and sanity during the holiday rush.
Prep your shop
1. Work ahead
Make your thing. Make lots of it. If what you make takes a lot of hands-on time (think: knitting, etc.), you may have even started stockpiling merchandise through the summer. Also, start packaging or tagging your items, if that's something you do. Just get them ready to ship.
2. Get your shop in order
Freshen up your product descriptions. Update your profile or about page. Fill out any empty parts of your Etsy profile or policies. Make sure your photos are awesome. Rearrange and organize your items on the first page of your Etsy shop to show off your best products. Add links to related items. Update your shop announcement and other customer communications with holiday lead times or shipping cutoffs.
If you have a stand-alone website, shine that up as well. Last month, I spent several days moving my website over to Shopify (from Woocommerce) mainly due to extremely slow hosting, and I'm loving it so much.
3. List your products
Make sure you have all your available inventory listed ASAP. Now is not too early. I wouldn't wait much past November 1 to have everything available for sale. Fill that shop!
4. Order materials and shipping supplies
You may even want to over-buy a bit if you have the cash flow and they are things you can't pick up locally. You don't want to go into panic mode if fortune smiles on you, and your phone is suddenly making that cha-ching sale notification every few minutes.
I wish I had a formula for knowing how much to buy, but I still don't really know what I'm doing in the area of sales projections and forecasts. All the variables are constantly changing, and it's impossible to know what the future holds. Presumably, if you are seeing growth over the year, then you can expect a better holiday season as well.
Hold on, I'm about to get nerdy on you. In 2014, 66% of my retail sales were in Q4 (that is, October, November, and December). In 2015, it was 63%. This year, I'm pretty on-track revenue-wise with last year (though with a much more focused product line), so I'm planning for the same. Pretty consistent, even with loads of changes (some different products, different sales channels). My business is weighted on Christmas because I have a very "gifty" sort of business. Plus holiday cards are a big piece of that. Your business might be more heavily weighted on wedding season, or Father's Day, or Halloween, or something else entirely, so adjust accordingly.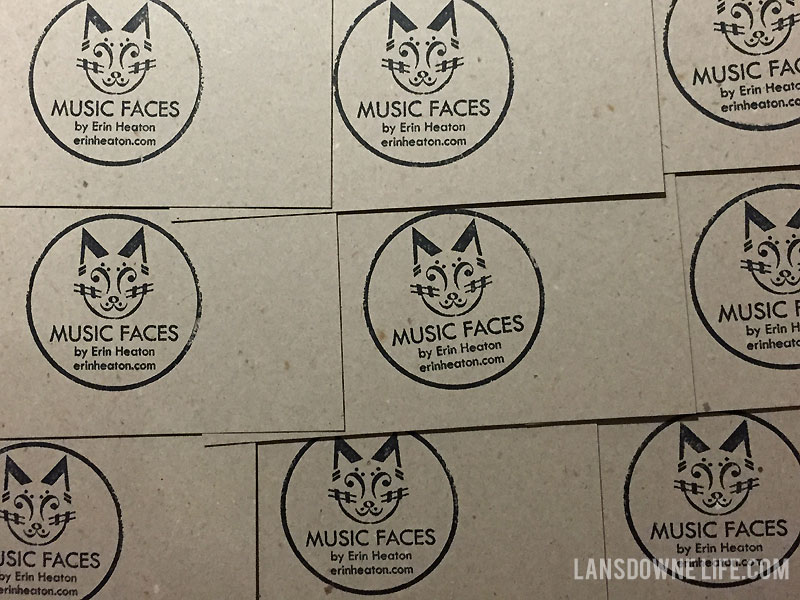 5. Prep your packing
Fold your boxes. Stamp or sticker your envelopes. Order more business cards or packaging inserts, if needed. Buy more printer ink for shipping labels/packing slips.
6. Plan out your holiday promotions
Plot out what you're doing and when. Prepare graphics, email newsletters, social media posts, coupon codes, or whatever else you need to do to run a successful promotion.
7. Organize your inventory
If things are all jumbled, it will make it that much harder to fill orders and keep track of what was sold. Make sure the quantities you have match the quantities available for sale in your shop so you don't over-sell. Maybe you'll realize you have more on hand than you remembered, or you'll find a pile of stuff you forgot to list.
I more than doubled my greeting card selection this year, and was running out of storage space, so I recently bought these open-top boxes (*affiliate link) and have my Christmas cards all lined up for packaging.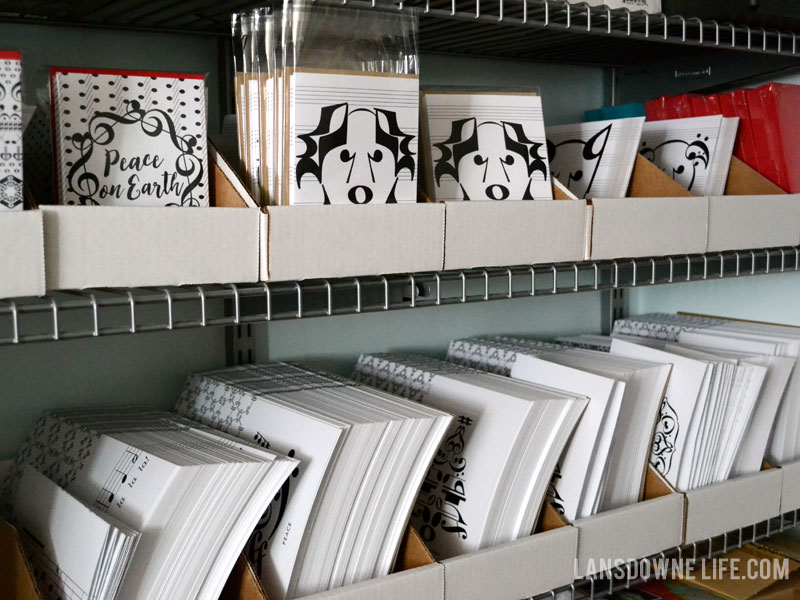 8. Organize your work area and shipping station
Streamline where you'll be working for the next three months. Put things away. Get rid of the junk. Clear out the clutter.
9. Get your admin stuff up-to-date
Bring your bookkeeping to current. Plus any filing or other paperwork you've been putting off. Get it squared away now.
10. Clear your email inbox
If you are not already one of those inbox zero types, do yourself a favor and weed out the junk. Archive what you need to keep, then stay on top if throughout the season. I keep emails about open orders in my inbox until they are fulfilled, then I archive them. I like to organize my inbox in those short bursts of time, like when I'm waiting to pick the kids up at school.
11. Clear your digital workspace
Organize computer files so you can find them when you need them. Back up your data! Send all the unnecessary stuff to the recycle bin. Create shortcuts on your desktop to often used files and folders. Do any software updates or printer maintenance that might snag you at just the wrong time.
Oh and if your phone storage is constantly running full and can't take one more photo? Set up cloud storage or Google Photos, delete old texts/photo duplicates/unused apps, transfer your photos to a computer… whatever you need to do to get that under control.
12. Pre-write your social media posts
I write a bunch of updates in a spreadsheet and loosely plot them out on the calendar. There's always spontaneous stuff that I can insert when needed, but for product releases, promotions, and holidays, you can plan those out ahead of time. I try to take big batches of photos so I have enough ready. Also, review your profiles and clean them up if necessary.
13. Investigate advertising, if that's something you want to try
Read up on Facebook Ads or Pinterest Promoted Pins and the best way to use them. Etsy's promoted listings can also work well if you aren't seeing your items in the first few pages of search results. And Etsy just added Google Shopping as a promotional venue. These are all semi-complicated, so do your research before you jump in.
14. Tell people about holiday craft shows you have coming up
If you are participating in craft shows, tell people! Add your Etsy shop to your events on Etsy Local if they are listed. Join the event invitation on Facebook (if there is one). List your upcoming events on your website. Add social media updates about them as they come.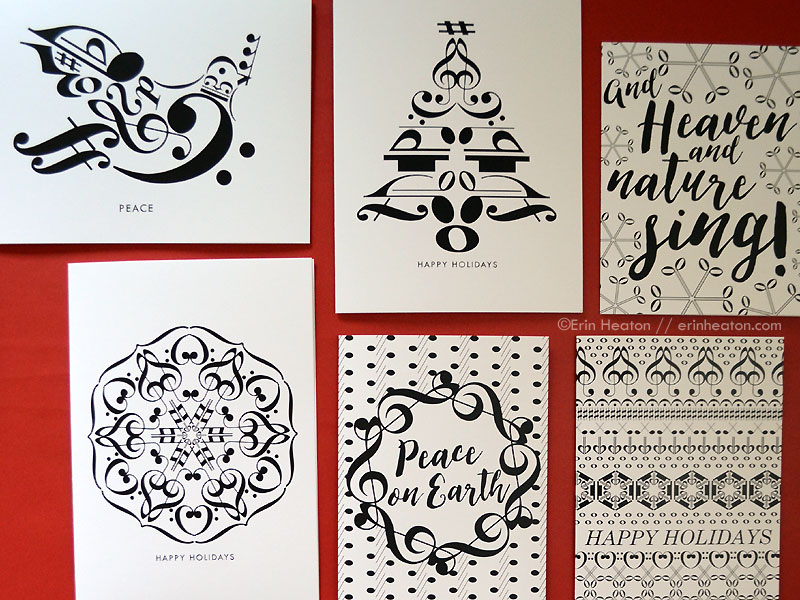 Prep your life
15. Stock up on household supplies
You can't buy fresh produce ahead of time, but you sure can stock up on things like toothpaste, toilet paper, toiletries, cleaning supplies, and anything else you might need for the next few months. Running out of things means extra trips to the store, and that's wasted time. Maybe you can turn that weekly Target trip into a monthly one. #momgoals
16. Make meals ahead of time
Are you sensing a theme here? I try to minimize store trips whenever possible, and especially during the holiday shopping season. Make meal prep easy during your busiest season. Making dinner tonight? Make it a double and freeze half for later. Search Pinterest for freezer meals or slow cooker recipes, and plan ahead. Buy healthy prepared foods to keep on hand.
We have a make-ahead meal place near us where you can make a bunch of dinners at once to put in your freezer. (And it only takes like an hour because they do all the prepping and cleaning!) It's more expensive than groceries, but cheaper than takeout. I heart it so much!
17. Clear the docket
Finish up any ongoing non-business projects (think: home improvements, personal craft projects, etc.). Fix things that are broken. Get things off your plate. Don't take on any new projects.
18. Don't volunteer for extra things during November or December
Yeah, that might sound selfish, but I try not to take on extra things during this time in the interest of not going crazy. If you can say no, say no. And then offer to help in February.
19. Plan and prep your holiday
Figure out what you really want to do this season. You don't have to attend every event, party, or ride-through holiday light display. Just pick the ones that you love.
20. Get your holiday shopping done now
I've already started Christmas shopping. I started in September, actually. Santa presents are nearly 50% complete. Family presents are maybe at 25%, but I have a full list of ideas. I always make surprise balls for my girls, so I'm also picking up tiny stocking stuffers!
21. Don't forget all the holiday extras
Got kids? Plan out their holiday outfits now. Oh, and plan your holiday outfit now. Buy or make your advent calendar, if that's something you do. Make Christmas cookies? Mix up the dough to freeze now and bake later.
If you send holiday cards, buy them now. Or if you'll be ordering photo cards, at least pick out the design you'd like and bookmark it for later. Buy stamps. Start addressing envelopes!
Good luck! And happy holiday selling season!

p.s. Another post to help you pinch those minutes!
p.p.s. Get more Etsy selling tips here >>
This post contains affiliate links. If you make a purchase through those links, I may receive a small commission. See full disclosure.