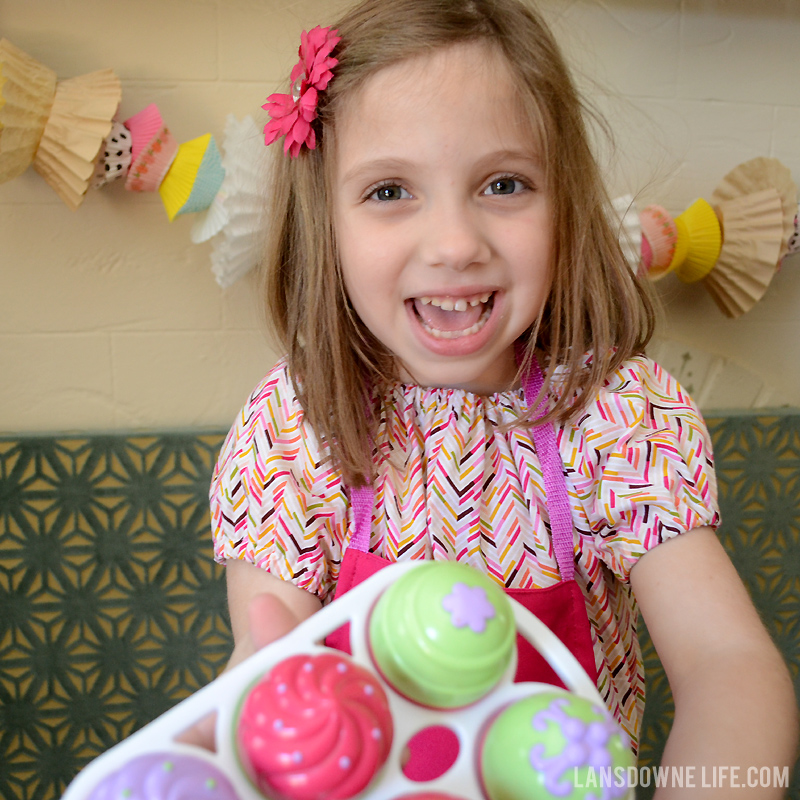 I've noted before that my daughter Elise loves baking and wants to be a baker someday. So it was natural that she chose a baking party theme this year. This was the first "kid" party we've had, and we invited the girls from her Kindergarten class to celebrate with us.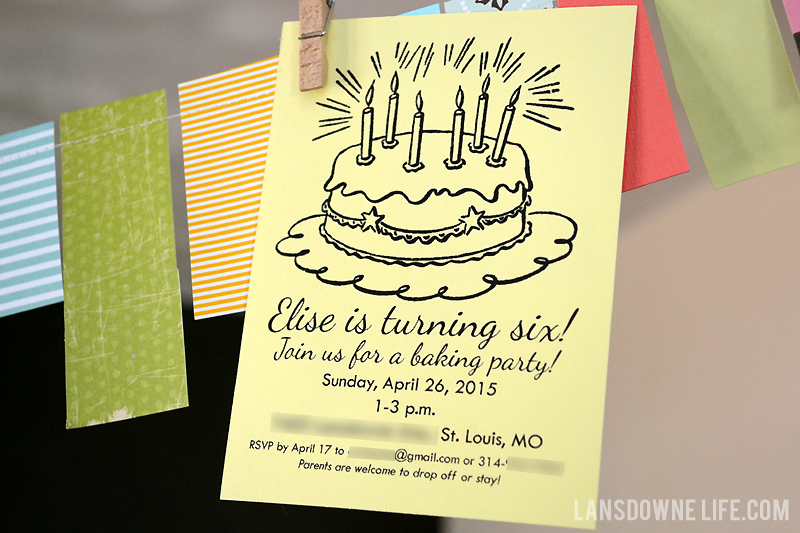 I found this vintage birthday cake illustration and Photoshopped out a candle so there would be only six.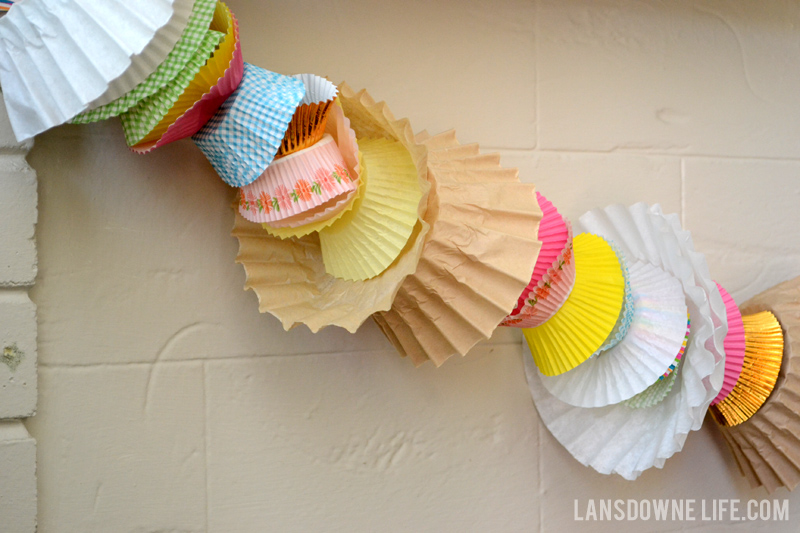 The decorations were minimal, but I knew we needed a cupcake liner garland (as seen on every pretty baking party on the internet like this one, and this one, and also here). It was really easy to make and took about 45-60 minutes. (It took me longer to collect all the different wrappers from various stores.) Using a needle and thread, I strung all sorts of cupcake wrappers and coffee filters randomly without a plan or strategy. This is one of those "the messier, the better" type of things, and I didn't have to ruffle or adjust anything.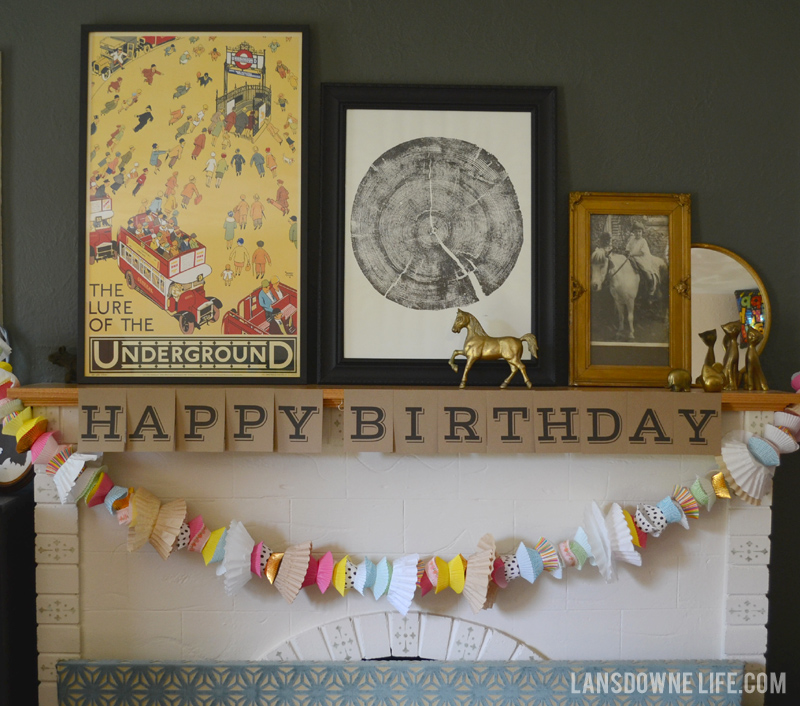 When the girls arrived, everybody got a pink apron and paper chef hat. Before the party, someone asked if I was going to make aprons for everyone. Wow! Um, no. I do not want to spend 20+ hours sewing aprons when I could buy these for less than $3 each. The paper hats were a bit big on everyone, but they stayed on pretty well.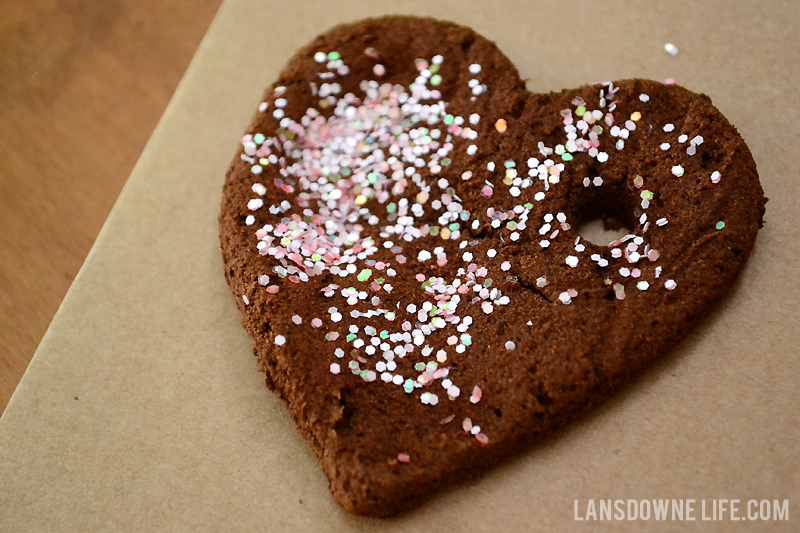 Our first activity was making cinnamon dough ornaments. They smell so delicious!
I prepared the cinnamon dough ahead of time with this simple recipe. Everyone got a piece to flatten and cut out a shape using a cookie cutter. There was a bit of a mishap because this batch of dough was rather sticky. (My two practice rounds had gone fine, but that didn't matter at this point. And of course, I didn't have any more cinnamon on hand to thicken up the dough.) Everyone had messy hands and many baby wipes were used in cleanup, but we somehow managed to make the ornaments look halfway decent. (No photos of the process, sorry!)
We sprinkled some glitter on the shapes, and I poked a hole in each one using a straw before putting them in the oven at 200°F. I left them there for the entire party and took them out just before everyone went home. You can handle them pretty much right out of the oven at that low temp. In 90 minutes, they had hardened enough to travel, but I suggested a few more days of air drying before hanging with a ribbon.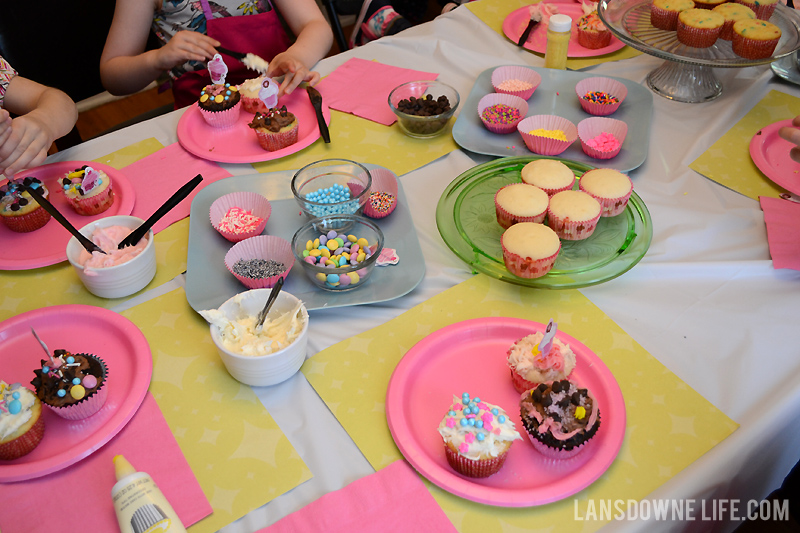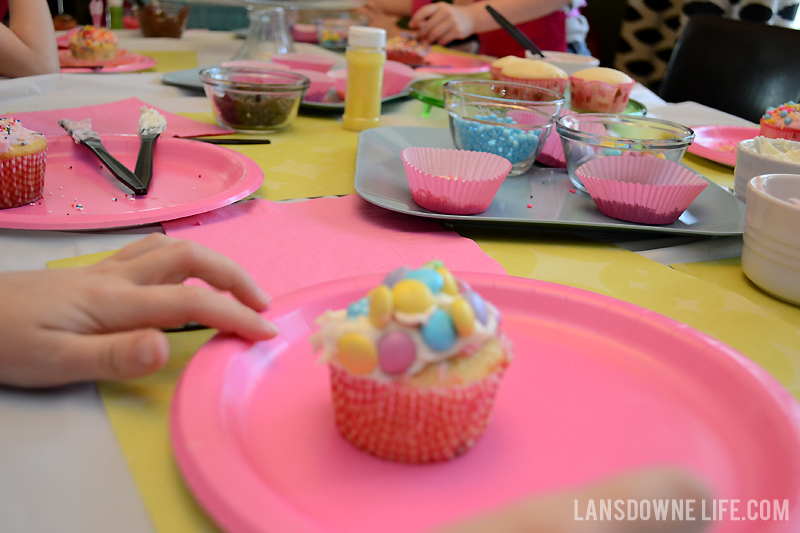 But the real fun of the party was decorating cupcakes. I baked six dozen cupcakes the day before: white, chocolate, and confetti. Every girl decorated five cupcakes: one to eat and four to take home. I had a variety of icings, sprinkles (like, a lot lot of sprinkles), candies, and other toppings available. The girls really got into it! I bought small cupcake boxes from Joann, and everyone took home four cupcakes to share.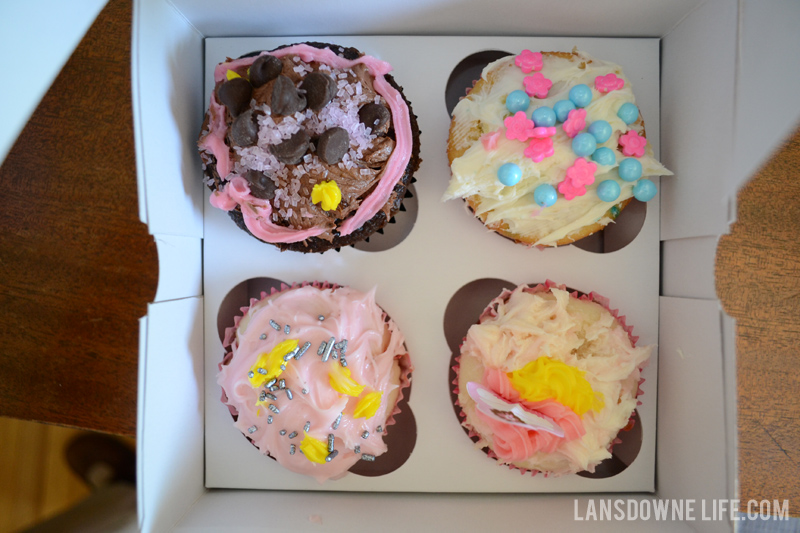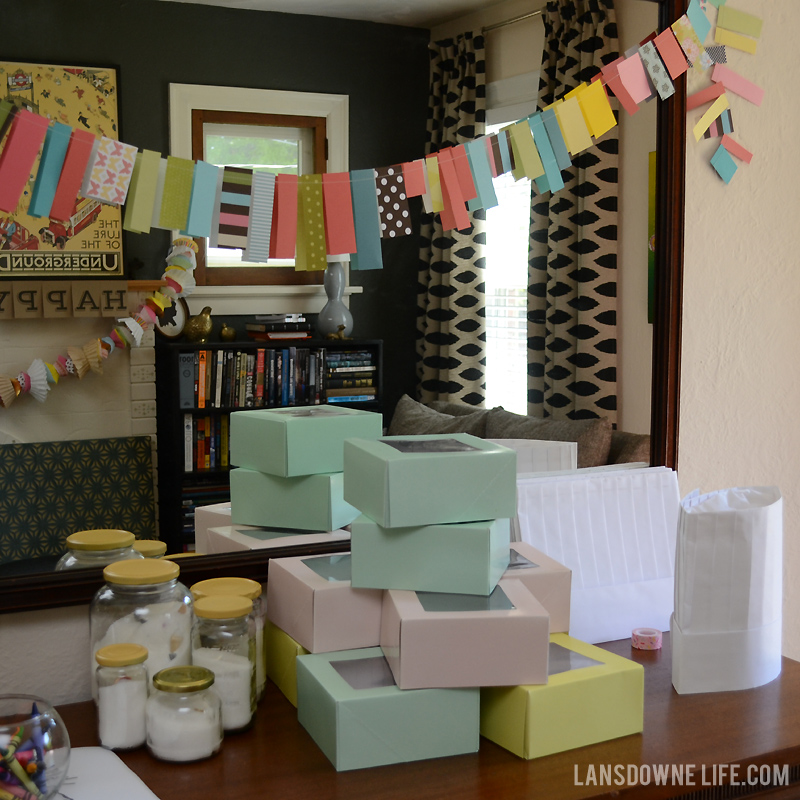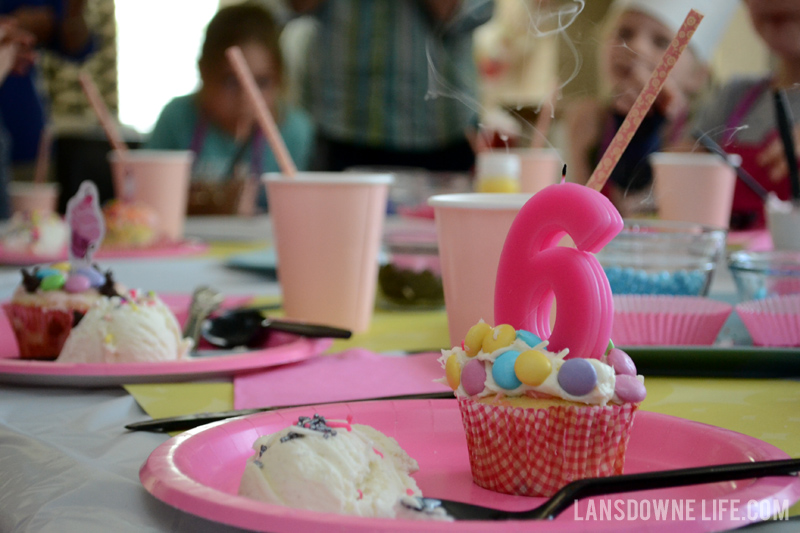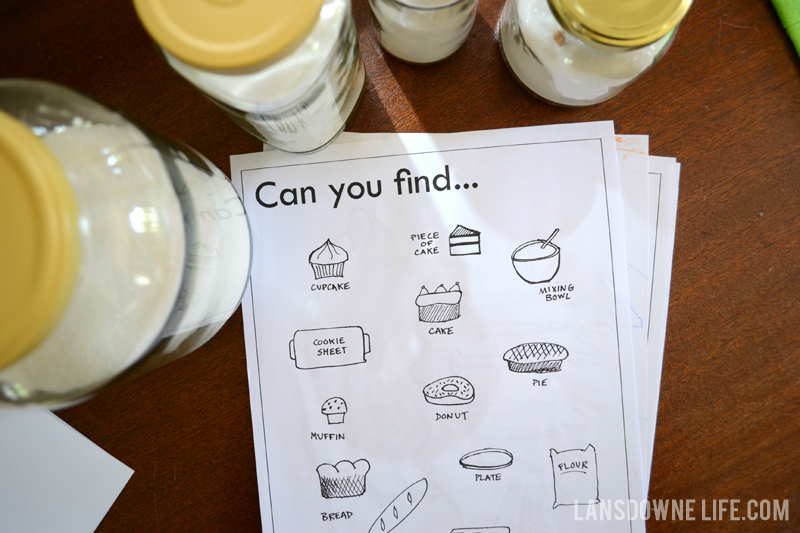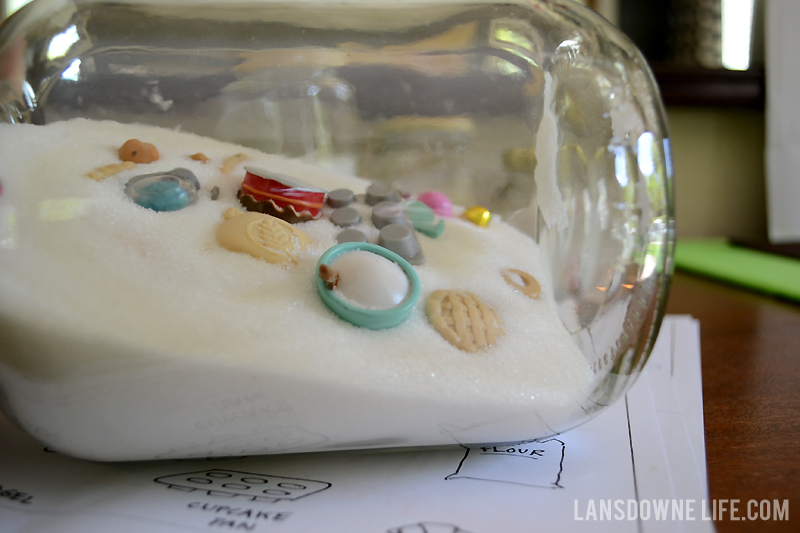 As the party was winding down after opening presents, the girls colored their hats and some coloring sheets with crayons. I also made up some "I Spy" jars using some of Elise's baking-themed miniature toys and sugar. (We also tried flour in the jars, but that didn't really work. You couldn't see the toys, and the flour didn't really "flow" around them like the sugar does.) Since they aren't all readers yet, I drew all the items so that they could find them visually.
p.s. We also played a few party games I made up like "balance-the-egg-on-the-spoon"-type stuff and the girls complied, but I could tell they were not at all into them. Message received. Skip the lame games next time, mom, and get to the fun stuff.